April 26, 2003 -- The Science Begins
April-May

Sun
Mon
Tue
Wed
Thu
Fri
Sat

Q. Is Lost City the shallowest vent field? What would happen if sea level were lowered or if the field were in shallower water? (From East Central Middle School, Hurley, MS)


A.The Lost City Field is not the shallowest vent field. It is at a water depth of 700 m or ~ 2100 feet. There are many high temperature fields on numerous large submarine volcanoes that ring the margins of the continents, and there are shallow warm to hot springs off of volcanoes like Iceland. In the shallow systems, many of the fluids are actually boiling and this process helps enrich metals such as gold and mercury. It is not likely that sea level would be lowered enough to expose the Lost City Field, but if it was exposed the chimneys would probably be broken off or eroded away by waves breaking over them.


It tells you something that I've been selected to write today's journal. There's general agreement that the most notable news of the past 24 hours has been the birth of my granddaughter Johanna Maria Hartman. Congratulations and all love to her parents, Anne and Theo.
When the captain welcomed the scientists on board, he said this would be "A long, long,…LONG cruise." It has not been that yet. It's hard to imagine that it will ever feel that way. But it has certainly been a long transit from Bridgetown, Barbados, to our dive site. The distance is 2597 km and the ship, built and operated for economy, travels at 23.2 km/hr (or 12.5 knots, which is 12.5 nautical miles per hour). From our networked computers, we have access to "underway plots" that show the ship's longitude and latitude as a function of time. Also the compass heading, the air temperature, the barometric pressure, humidity, wind speed and direction, cumulative precipitation, sunlight, sea-surface temperature, and salinity. We've watched the latitude creep steadily northward toward our goal of just over 30 degrees north. We've felt the temperature decline from the tropical warmth of Barbados to this afternoon's 20 degrees Celsius or 68 degrees Fahrenheit.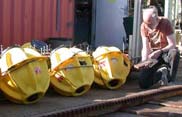 Sonar Transponders
After sailing on Monday, on Tuesday we unpacked and set up equipment. And had our first meetings. On Wednesday we dealt with problems discovered on Tuesday. And had more meetings. With the longitude plot showing steady progress and the sun setting earlier in the evening, we set our clocks ahead one hour. On Thursday we dealt with problems that hadn't been solved on Wednesday or which, in some cases, skilled scientists that we are, we had recently created. Did I mention meetings? By Friday night, my new grandchild and another advance of the clocks were the events. Unless you count the meetings. We'll arrive on Saturday evening at about 6 PM our time (the average speed not equal to 23 km/hr due to a weather-related course deviation). The day and time are fitting – everyone is ready to party. Which, in our case, means get to work.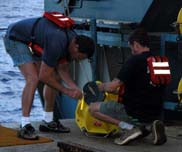 Transponder Preparation
What will we do first? Establish signposts. Thanks to the global positioning system, it is, these days, easy enough to know where you are on earth's surface. But what if you want to know where you are – exactly where you are – when you're more than 700 m below the surface of the ocean? You locate yourself relative to some underwater signposts. And you take care that you know the latitude and longitude of each of those signposts. Our "signposts" are sonar transponders. If struck by a particular sound – a ping from one of our submarines – they respond with a sound. By listening, and sensing the direction and distance to each transponder, the submarine determines its precise location.
The transponders are small electronic devices that are mounted on yellow, "hardhat" floats. The yellow "hardhats" contain glass balls and serve as underwater balloons or floats that carry the transponders.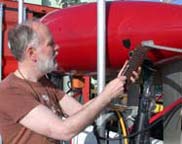 Transponder Testing
Each will be tethered to a weight heavy enough to sink it. The tethers are 200 m long so that the transponders float like balloons about 200 m above the seafloor. At that height, they're readily "visible" to submarines cruising the uneven terrain. To minimize problems, transponders are tested before they're deployed, a simple process shown in the photo left.
On Sunday morning, Deb Kelley, our chief scientist, and Tim Shank, a biologist, will join Bruce Strickrott, an experienced Alvin pilot, for the first dive. About the time they return, we'll probably realize that we need more meetings!